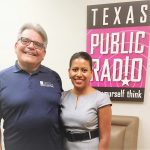 Happy belated birthday Dr. Martinez!
Thank you for all the jokes and for showing me or reminding me of  the fun side of life and work 🙂
I am very grateful for finding you through the CHW program at NVC. You've been the most important person in my development as a professional, the one that made me believe in my potential and whose support I will always be grateful for.
I know there are many CHWs here in this forum who have been positively impacted by you and who share similar thoughts of gratitude.
On behalf of my colleagues, we thank you for all you've done for  CHWs in San Antonio and Happy belated birthday!