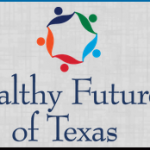 Hello to All,
Forwarding the message below.
Remember to update your resume, match your skills and experience to those key words on the job description.
I don't have the ability to attach a file so, please forgive the text overload.

Healthy Futures of Texas currently has an open position for a C-PREP Health Educator I.  I've attached a copy of the job posting for your reference.  If you have any questions, please feel free to send me an email or give me a call and I'll be more than happy to assist.
Kindest Regards,
Terri Contreras, BA | Administrative Assistant
Healthy Futures of Texas
2300 W. Commerce St, Ste. 212
San Antonio, TX 78207
o. (210) 223-4589 | c. (210) 392-3658
Healthy Futures of Texas (HFTX)  Job Description: Health Educator I Competitive Personal Responsibility Education Program (C-PREP) Grant  Non-Exempt Position
Healthy Futures of Texas is a nonprofit organization dedicated to reducing teen and unplanned pregnancy in San Antonio. We believe that all young people deserve to reach their full potential—and become parents at a time that is right for them and their family.
JOB TITLE: Health Educator I REPORTS TO: Program Director for the HFTX C-PREP Grant
JOB SUMMARY: This full-time position is responsible for collaborating with and providing training/technical assistance for community college staff and students, and participating community agencies, to achieve the objectives of the HFTX C-PREP Alamo Colleges project.
ESSENTIAL JOB FUNCTIONS: • In consultation with the Program Director, assists in the coordination of young adult health education in community colleges • Facilitates and delivers group presentations on teen and unplanned pregnancy prevention, sexually transmitted diseases (STIs), and related topics • Provides training and technical assistance to college personnel and participating agencies • Conducts participant outreach and recruitment for the C-PREP Alamo Colleges Project  • Implements and trains others on assigned curricula with fidelity as needed • Develops and maintains positive working relationships with assigned college's coordinators and Peer Mentors • Assists assigned colleges in preparing for, participating, and successfully achieving C-PREP project goals • Consults frequently with campus coordinators • Develops positive and professional rapport with project participants • Develops clinical linkages from the assigned community college campuses with community clinics • Develops and implements communications initiatives, i.e, social media and print campaigns
Remains current on topics related to teen and unplanned pregnancy, STDs, and related health topics • Maintains organized records of activities on project databases • Represents Healthy Futures of Texas in the community, in a positive and professional manner • Works well both as a team member and individually; gives and welcomes feedback, and contributes to building a positive team spirit • Performs other related duties and fulfills responsibilities as assigned MINIMUM QUALIFICATIONS: • Bachelor's Degree in education, health, or a related field • Minimum of one-year professional experience working with youth or young adults in a community health or related field • Ability to troubleshoot and use critical thinking in high pressure situations • Ability to provide campus personnel with feedback and technical assistance • Demonstrated ability to facilitate curricula and to engage with young adults and parents • Demonstrated ability to interface effectively and build working relationships with diverse community members and agencies • Demonstrated ability to communicate effectively verbally and in writing • Ability to meet assigned deadlines and to work well under pressure • Must have excellent presentation skills • Proficient computer skills in MS Office are required • Must be willing/able to work some evenings and weekends • Must have cell phone, with text messaging and work e-mail access • Proficient in social media, such as Facebook, Twitter, LinkedIn, and Instagram
BEHAVIORAL COMPETENCIES AND REQUIREMENTS: • Commitment: Sets high standards of performance; pursues aggressive goals and works hard/smart to achieve them; strives for results and success; conveys a sense of urgency and brings issues to closure; and persists despite obstacles and opposition • Effective Communication: Ensures important information is passed to those who need to know; conveys necessary information clearly and effectively orally or in writing; demonstrates attention to, and conveys understanding of, the comments and questions of others; and listens effectively. • Teamwork: Balances team and individual responsibilities; exhibits objectivity and openness to others' views; gives and welcomes feedback; contributes to building a positive team spirit; puts success of team above own interests; supports everyone's efforts to succeed; attends, supports, and participates in all team building exercises and events. • Continuous Improvement and Innovation: Seeks the continuous improvement of program processes and services; explores out-of-the-box methods and is open to experimenting with new ideas; uses data,
knowledge, and strategic decision-making to generate new and innovative solutions. • Time Management: Adheres to the office hours of operation, Monday – Friday 8:00am to 4:00pm and is available some nights and weekends.
PREFERRED QUALIFICATIONS: • Bachelor's Degree in Health Education, Health Promotion, or a related field • Certified Health Education Specialist (CHES) certification, or AASECT certification • Demonstrated commitment to cultural pluralism • Demonstrated ability to relate to students of varied ethnicity, ages, backgrounds, and abilities • Experience in working with community colleges at an administrative level or with peer educators • Bilingual (English and Spanish) TRAVEL REQUIREMENTS • Must have Valid Texas Driver's license • Travel within Bexar County with personal insured vehicle required • Some out-of-town travel required • Office environment, community college classrooms, and other community locations
EXTERNAL/INTERNAL CONTACTS • External contacts include collaboration with community college staff and students, community agencies, and health providers • Internal contacts include Alamo Community Colleges project team members and other Healthy Futures of Texas staff
FINANCIAL RESPONSIBILITY/DECISION MAKING • Assists with purchases for needs of the project
SUPERVISION • Interns as assigned
APPLICATION PROCEDURE: Please email a cover letter describing interest and qualifications, a résumé, salary history, and a list of 3 professional references to: jobs@hf-tx.org APPLICATION CLOSE DATE: Open until filled, with preference given to applications received by March 6th, 2019. Healthy Futures of Texas is an equal‐opportunity employer; women, people of color, members of LGBTQ communities, and people with disabilities are encouraged to apply. Applicants should be aware that a criminal background check and drug screen will be required prior to hiring.
2300 W Commerce Street, Suite 212 • San Antonio, TX 78207 • 210-223-4589 • • FAX 210-223-4591 • jobs@HF-TX.org • www.HF-TX.org •